Bruce Lee Workout Routine – The Art of Simplicity
Bruce Lee – "I fear not the man who has practiced 10,000 kicks once, but I fear the man who has practiced one kick 10,000 times".
Simply watching a movie starring Bruce Lee or catching a glimpse of his physique is enough to inspire anyone. There were few people who possessed the ability and resolve to surpass any limit as Bruce did. Even mimicking a fraction of the way Bruce trained would be enough to make yourself more than just a man. In this article, I want to highlight just one of his profound teachings – the power of simplicity.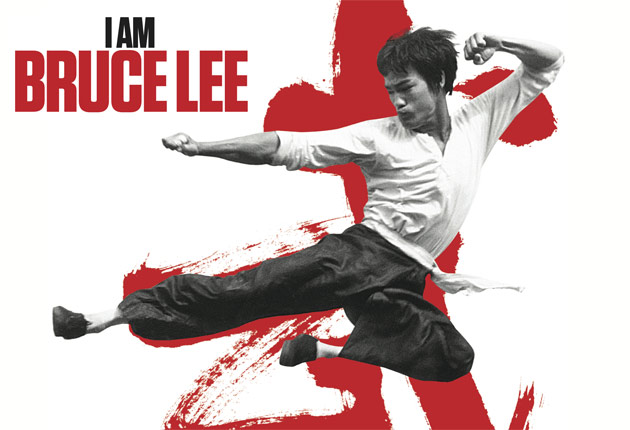 Simplicity is the Key to Brilliance
The study of martial arts was not only Bruce Lee's hobby, but his true passion. It was through countless hours of vigorous training that he discovered how mastering a smaller set of moves was superior to practicing hundreds of different ones.
This is best illustrated for anyone who has performed or seen martial arts. There are an infinite number of techniques that can be executed such as take downs, hand strikes, kicks, knees, and elbows. However, only a small number of these are ever used during competitions or in a street fight (how often have you seen someone throw a spinning back kick in a bar fight?). Certain techniques are very flashy, but lack the simplicity and efficiency to be used in a real fight.
How does Simplicity play a role in Fitness and Building Muscle?
Through martial arts and fitness training, I soon realized that I was wasting time on trivial exercises and routines. Focusing on what worked and ignoring the rest was what I really needed to improve my training.
As always, many people will be tempted to target different body parts by adding a variety of exercises like bicep curls, abdominal crunches, and calf raises. Instead of spreading yourself thin, focusing on a smaller set of exercises will allow for faster strength (and size) gains with fewer plateaus.
Picture yourself trying to perfect 10 different kicks per week. They'd probably be sloppy and wouldn't even be able to hurt a little girl. Unfortunately, humans are not programmed to multitask effectively and plateaus are inevitable.
Remodel Your Training
Select 5 movements to be your indicator exercises. 5 exercises per workout may not sound like a lot, but keep in mind that it's the intensity of the training that counts. Ideally, these exercises should be compound movements that work the full body. The goal is to continuously get stronger by adding more resistance to each exercise at a constant pace. Deterring from unnecessary exercises will allow you progress rapidly and build lean, functional muscle.
Indicator Exercises
These 5 exercises will effectively enhance your overall fitness, physique, and strength.
1. Squats
This is the bread and butter exercise for developing leg and core strength. Squats work your legs through a full range of motion which is beneficial for both sports and every day activities. Best of all, squats stimulate the most growth hormone out of any exercise. If you want to improve your bench press, do squats. If you want to deadlift more, do squats.
2. Pull Ups
Pull ups have contributed most to the development of my back. Pull ups effectively target the lats and rhomboids as well as the biceps. Exercises like dumbbell rows and lat pull downs pale in comparison to the efficiency of pull ups. This exercise will dramatically increase your upper body strength.
Pull ups are also great for improving your core strength, grip strength, and muscular endurance. As the pull ups become easier, you can challenge yourself by adding additional weight to further increase the resistance.
3. Incline Barbell/Dumbbell Bench Press
Though there are tremendous benefits to doing the regular bench press, performing an incline press is far superior at developing the upper pectoral region. In most sport related movements such as throwing a punch, the arms extend at an upward angle rather than in a straight line. Therefore an incline press may contribute more to functional fitness.
4. Standing Barbell Overhead Press
This is essentially the only exercise I do to develop strength and definition in my shoulders and triceps. In addition, it helps promote the square chest appearance by filling in muscle underneath the collar bone. Since this exercise requires immense core stabilization, the overhead press will also help develop your abs and back as long as you keep your core engaged throughout the movement. Alternating this exercise with the bench press will reduce the risk of shoulder injuries due to muscle instabilities.
5. Deadlifts
Deadlifts can pack on an abundance of dense muscle since it works the entire body with the heaviest weights possible. In addition to the lower back, this exercise targets your glutes, hamstrings, quadriceps, and grip strength. Having a weak lower back, deadlifts have helped strengthen my core, improve my posture, and prevent injury.
Sample Bruce Lee Workout Routine
These exercises can be divided and performed three times a week in alternating patterns (Workout A and B). For both strength and a bit of size, aim for 5 sets of 5 reps per exercise. Rest 1-2 minutes between sets. Try to increase your work weight by at least 5% each week. The effectiveness of your training will depend on your progress with these 5 exercises. Throwing in some HIIT will also help you lose fat and build lean muscle along with numerous other benefits.
Workout A
Squats
Incline Bench Press
Pull Ups
Workout B
Deadlift
Overhead Shoulder Press
Remember, simplicity is the key to brilliance. Focusing on these specific indicator exercises will enable you to build that lean, fit and muscular physique and overcome any obstacles. As Bruce Lee said, there aren't any limits, only plateaus, but you mustn't stay there. If you die, then at least you die trying. A man must constantly exceed his level.